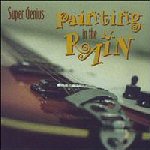 Super Genius - Painting In The Rain
Label: Independent
Released: 1995
Painting in the Rain may sometimes be found at EBAY, other music specialty stores or through Tim Kwiat
"Super Genius To Play Chameleon Club Tonight"
by Barry Fox
Harrisburg Patriot News/Weekend Section
Friday, December 13, 1996 >

It may appear to be a casual, loosely organized project, but the music produced by Super Genius certainly doesn't sound like it.

Combining part of The Innocence Mission -- drummer Steve Brown and bassist Mike Bitts -- with a longtime friend, former A Thousand Years guitarist Tim Kwiat, has produced one compelling album ("Painting in the Rain"), with another disc in the works.

But that's where it gets complicated.

With Brown's and Bitts' Innocence Mission work and the trio's family and job commitments, Super Genius' recording and performing can be a bit sporadic.

I'm such a big Innocence Mission fan, I would never want to step in the way of that," Kwiat said. "It does get frustrating, in that, when I'm on the mood to perform or whatever, they may not be around."

So, Super Genius -- named after the Warner Bros. cartoon classic "Wile E. Coyote-Super Genius!" -- remains a "whenever-we-feel-like-doing-it" kind of thing, Kwiat said.

One of those harmonic convergences will happen tonight at The Chameleon Club in Lancaster, when Super Genius and Love Nut open for Hershey's own The Ocean Blue.

What would eventually become Super Genius got its start years back when Brown, Bitts and Kwiat were teens at Lancaster Catholic High School.

"I've known Steve since we were in eighth grade; we're like brothers," said Kwiat, 31. They served as best man at each other's weddings. Kwiat and Bitts opened each day of high school playing piano duets in the music room.

"This whole thing is about friendship," Kwiat said. And, some pretty darn fine music.

"Painting in the Rain" is a Smithereensesque, 11-song collection, written by Kwiat and a testament to his musical philosophy: basic, melodic songs that stick in your head.

"I'm a major Beatles-head," Kwiat said. "I grew up eating, sleeping, breathing the Beatles. I also love Brian Wilson and the Beach Boys. I guess I'm from the old school of rock 'n' roll."

The new album, tentatively titled "Drifting," is again penned by Kwiat, with Bitts doing some of the arranging. Recording sessions are held on Sundays to avoid conflicts with Bitts' work in a music store, as a session and club bassist and music teacher, Kwiat's new job as process engineer for Phoenix Packaging in Columbia and Brown's title as assistant chef in The Log Cabin in Lancaster.

Kwiat said the album includes a wide variety of topics -- the death of his cousins on TWA Flight 800 ("Hudson River Suite"), his children ("Goodnight Moon"), his wife ("Sometimes") and his own fears and paranoias ("Everything Scares Me").

"Material-wise, it will be a lot better than 'Painting in the Rain,'" Kwiat said. "It will be melodic but will have more of a rock feel."